As the national anthem played and the gold medalist stood there proudly looking at their nation's flag, I thought, "What?! For real?!"
Okay, so I'm familiar with the "Star Spangled Banner," and I know the first two words of the Canadian national anthem, but other than that, I'm quite ignorant of all the other countries.
So when I heard "God Save the King/Queen" being played, I thought it was ironic that America has a distinctly patriotic song to that same tune. I thought, "How typical of us to take a patriotic song from Mother England and put our own words to it so that it communicates the exact opposite message."
Whenever we hear a tune without words, we immediately associate it with whatever lyrics we learned to that melody. But there are actually many tunes that have more than one set of lyrics associated with them.
What many people don't realize is that melodies often have their own name unassociated with the song to which they are played. For example, "Holy, Holy, Holy" is sung to a tune called "Nicaea." So if you hear the tune to this popular trinitarian song without any words, you're not actually listening to "Holy, Holy, Holy"- you're listening to "Nicaea."
"Hyferdol" is a popular tune in many hymnals, probably best known as the tune for "Our Great Savior." But if you play it in December, it suddenly becomes a Christmas tune with the words "Come, Thou Long-Expected Jesus."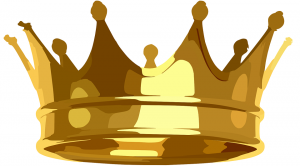 Okay, now on to the point of this post. Did you know that "Come Thou Almighty King" was once sung to the same tune as "God Save the King"?
This year I've decided to study as many hymn stories as possible just for fun, and this is one of my favourites so far.
Nobody knows who penned the words. It once appeared in a pamphlet alongside a Charles Wesley hymn, but no definitive evidence attributes this other song to Wesley.
Regardless of its origin, there is a story about this hymn that seems quite plausible. During America's struggle for independence, there was a certain day when some British soldiers entered a worship service at a colonial church.
The soldiers commanded the church to sing, "God Save the King." In a show of submission and clever rebellion, the people sang, "Come, Thou Almighty King" to the same tune of England's well-known anthem.
It was almost as if the people said, "We have no king but God!"
As the story goes, the soldiers left without doing any harm to the people.
Who is your king? Does your king reside on earth or in heaven?
Here are a couple YouTube videos for your listening pleasure. The first video contains the tune that we associate with the hymn, and the second one is the UK National Anthem.
Try singing the hymn to tune in the second video and imagine what it might have been like to be part of that small congregation 300 years ago that stood up the king's men.