In the second post of this series, I talked about the teamwork that is involved in playing handbells. Teamwork and unity are two things that every church should constantly work on, and handbells are a great way to teach those concepts.
On the other hand, handbells are also great for teaching people to play independently. In Romans 12 and 1 Corinthians 12, the apostle Paul likened the church to the human body: "For as we have many members in one body, but all the members do not have the same function, so we, being many, are one body in Christ, and individually members of one another" (Romans 12:5-6).
One of the big issues plaguing churches today is the lack of involvement by so many of the church members. Imagine a handbell choir of 11 people, but only 4 show up for rehearsal!
Sadly, that's the state of many churches in our world.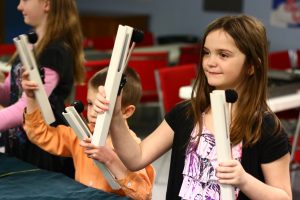 When you play in a full handbell ensemble, very rarely will you ever play something by yourself that could stand on its own if everyone else was taken away. So you're essentially learning to play a series of sounds that make little or no sense. They seem insignificant.
But once you put everyone together, each playing their small, insignificant parts, you suddenly get something big and beautiful and potentially amazing.
The key is to have each person play their individual part really well. You definitely notice when someone is missing or if they are playing their part incorrectly!
This lesson is important for church members to learn. When they serve in the church, they may be asked to do something that seems small and insignificant. But it takes a whole body of believers, each doing their job well, to grow the body of Christ.
You can preach this from the pulpit and teach it in small groups, but handbells are a great way to illustrate the principle in a way that people will understand.