Hello, and thanks for visiting! My name is Joshua Huang, and this website has been a dream of mine for a long time. It started several years ago when I built my first website. I made a section for music-related things, and, well, nothing ever came of it. In fact, if you don't already know what website I'm talking about, I'm not going to tell you because it's way out of date and currently being completely changed.
As the years went by, I still had a dream of finding a way to share my musical interests online, but I never had the time to sit down and do it. But now, that time has come, and I'm excited about the possibilities now that I have this website up and going!
Music is one of my passions. I was not an early achiever when it comes to music performance, and I am by no means a musical prodigy. At the age of nine I began taking piano lessons from Irma Schaeffer (who is now one of Heaven's best pianists), and at age ten I began playing violin. At 16, Mrs. Schaeffer got me started on organ lessons. When I was 19, my parents gave me a musical saw for Christmas, and I always enjoy watching the reactions of people who have never seen one played before. A year later for Christmas I received an accordion for Christmas, and I'm still working on figuring out the full capabilities of that contraption. When I was 21 I began playing handbells in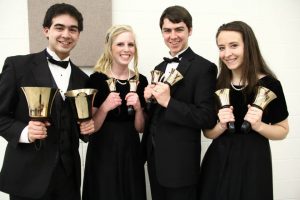 When I was 21 I began playing handbells in FBBC&TS's handbell ensemble. Somehow I also got talked into playing the string bass and the viola while I was at Faith, but I never got to play the one stringed instrument I wanted to play more than anything else- the cello. While I was in Brasil in 2013 I learned how to play a zabele, a nose flute designed to sound like a bird with the same name. Then in 2016 I finally crossed bagpipes off my Christmas wish list, but I have yet to play them for the first time.
My strengths definitely lie in piano and violin, but I love new adventures, and I enjoy playing instruments that are considered uncommon…I'm sure you already figured that out if you've read this far.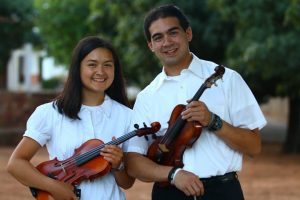 As many children enjoy doing, I loved singing and making up new songs on the spot when I was young. Of course, I don't remember any of those childhood melodies. But now I know how to write down the songs I melodize, and I started composing when I was 15. My first song was actually a piano arrangement of Joyful, Joyful, We Adore Thee with O Worship the King, and to this day it remains one of my favorite arrangements to play (it's also one of the only piano arrangements I have memorized, I'll be honest).
Since writing that first arrangement I have graciously been given opportunities to play my arrangements and original compositions in church, further encouraging my love of music. After a while it simply became easier (and cheaper) to just write a song for violin, arrange a piano accompaniment, and record the accompaniment on an electric keyboard, thus allowing me to play in church without having to find someone to practice with me. I also found out that I could play more confidently when I was playing a song I knew well simply from having arranged it.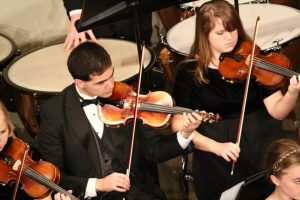 While I was in college at Faith, I came two classes shy of getting a music minor, and that was only because music was not my main focus at school. Nevertheless, I found ways to sneak in several music theory classes, a couple conducting courses, a few semesters of private violin lessons, and 20 total semesters of musical ensembles. I miss making music with all those fine people!
Since October of 2016, God has given me the privilege of serving as an assistant pastor at Lighthouse Baptist Church in Cottage Grove, MN. One of my main emphases here is the music ministry, and I have absolutely enjoyed doing something I love and calling it "work." In addition to playing the piano and developing our instrumental ensemble, God granted me the opportunity to start up a handbell ministry. A generous donor in our church provided the money for 3 octaves of Schulmerich and handbells and 3 octaves of Schulmerich handchimes, and I have just watched in amazement as God has provided me with numerous opportunities to develop my own handbell skills in the last few months, preparing me for this new undertaking. So many exciting things happened in such a short time! But I love surprises, and God's surprises are the best.
So that's my background. God has given me an increased burden to take the musical knowledge that he has given me and share it with others. God placed people in my life who encouraged me and pushed me to become a better musician so that I could serve him with music. I want to do the same for others.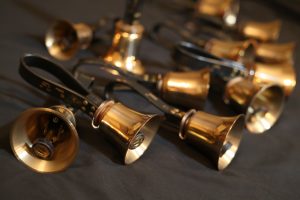 Echoing His Praises is my effort to do the following: 1) Motivate people to use music for ministry in the local church, 2) Encourage individuals and churches to consider avenues of music ministry that they may not have already pursued, 3) Address musical issues from a biblical perspective, 4) Provide arrangements of existing music for a wide variety of instruments and ensembles, and 5) Share original, God-glorifying compositions.
Thanks for listening and taking the time to read this far 😉 If you have any suggestions or questions for me about anything on this website, feel free to contact me, and I will respond as quickly as I can!
[contact-form]